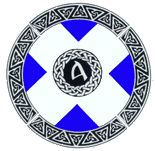 Siol nan Gaidheal
THE SEVEN DEADLY THREATS!
(Unionist Strategy and Siol nan Gaidheal's response)
I remember the late Jackie Stokes writing to me on the subject of 'Divide and Conquer' which is used so successfully by all the Unionist Parties and the Anglo-Saxon Fuehrers to castrate our Nationalist aspirations. This selfsame subject has come up on other discussion groups and I am firmly committed to the view that Siol nan Gaidheal MUST REMAIN a Cultural organisation. There are many other Nationalist groups which are committed to the same goal of defending our Culture, our History, our Music and our native Languages, be they Doric, Lallans, Scots and Gaidhlig. It is my opinion that we should all co-operate more fully together to resist the onslaught of Unionist Lies and Propaganda.
As fast as we build up something, the Unionist lackeys are busy trying to tear the structure down. They have all the advantages; plenty of money, domination of the mass media outlets, and the political clout to make things happen. They have successfully emasculated the SNP and made sure that it can only Bark NOT Bite! On the other hand most Scottish Nationalist groups are holding on by their finger nails to preserve what is left from being subsumed into the culture of the 'little Englanders!'. Nationalists all over the country have kept their ears to the ground and in the past nine months an increasing frequency of extremely worrying reports have been heard about the following seven deadly threats:


Language being used as a cause of Division in the Central belt.
Revision of Scottish History by historians with an Anglo-Saxon bias.
The idea that Scotland is an Ancient kingdom is nothing more than a myth.
Nationalism is narrow minded bigotry, Globalism is the way forward.
Scottish Music and Culture is for Nerds only, not progressive people.
Scottish Tourism is being downplayed in favour of wider so called UK Tourism (English)
The Holyrood Parliament is being used to 'Homogenise' Scotland and England
LANGUAGE
There are a few insidious stories going the rounds in the Central belt, that the Nationalists want to IMPOSE Gaidhlig on the whole of Scotland who speak Scots and/or English. This has come from the Educational Establishment and it is so widespread that it must have official sanction from the Unionist Politicians. The Central Belt has to be won over to the Nationalist cause, and what better method to prevent this, than by dividing the people by playing on ancient fears, rivalries and distrust of the Highlands. More and more SNP canvassers are being accosted about Gaidhlig domination. This is also given a Sectarian slant: Protestants being told Gaidhlig is a Catholic language, and, conversely, the Catholics are told Gaidhlig is the Language of the ranting, raving Hell and Damnation 'Wee Frees!'.

In the Gaidhealtagh, the reverse is true, the pernicious rumours tell the Gaels that the SNP only pay token lip service to the Gaidhlig Language (UNFORTUNATELY LARGELY TRUE) and that Gaidhlig is better served by supporting the Unionists. Also in the meantime, in the classrooms, Standard English is quietly taking over from Scots. One Senior English Teacher told me that thirty years ago when she started teaching, children had no difficulty understanding Lewis Grassick Gibbon's classic work 'A Scots Quair.' Now children from the most Doric speaking area of Scotland have to have the words explained to them. So, quietly and without fuss, our native Scots tongue is being starved into extinction. Possibly, within two more generations, it will be no more. Once Scots has vanished as the vernacular, what chance has Gaidhlig got?
REVISION OF SCOTTISH HISTORY
Hand in hand with the Educational Establishments' teaching of Standard English to replace Scots, the historians are also having a field day, rewriting Scottish History from the 'British' viewpoint. In this they are aided by the TV History Programmes, which have in recent times put out highly slanted versions of history to suit a particular theory. I personally have written to the BBC to correct historical inaccuracies on THREE separate occasions.
1. King Malcolm Ceannmhor 'Died during the Siege of Alnwick' whereas the truthful account should read 'Murdered by ambush whilst under a flag of truce by command of William Rufus King of England, whilst riding to negotiations at Alnmouth.'
2. MacBeth 'murdered King Duncan.' When the truthful account should read 'Defeated and slew Duncan on the field of battle after Duncan, with Irish and Viking mercenaries, went rampaging and pillaging on MacBeth's lands without any declaration of war.'
3. The Scots were 'NOT a trading nation' was shot down after I pointed out that Scottish wool was widely traded on the Continent and that scores of European Cathedrals and Guildhalls were built of Scottish stone (exported by the Cospatric, Earl of Dunbar). Also that trade revenues from Rattray, Leith and Berwick were THREE TIMES HIGHER than the total amount of English Trade from all ports.

When my daughter studied Scottish History at Aberdeen University, one particular lecturer from England tried to insist the 'Highland Clearances NEVER Happened!' (Economic migration). Even now, a quick examination of recommended books lists shows that the books have a bias against the Clearances and flatly deny that any Scots were sold into slavery. I have also seen other examples of historical misrepresentation in the history books and materials used in Schools and if teachers protest, then they are quietly disciplined or shuffled off out of the profession.
SCOTLAND, AN ANCIENT NATION, IS A MYTH
According to the Revisionists, Scotland only became a nation in the 16th Century and then only as a nation united in the Reformation, but subservient to England. The popular view is that the Scots were a collection of wild barbarian hill-billys who could never co-operate with each other and were always at each others throats. An examination of the history of any country, anywhere on the planet's surface would have revealed the same set of circumstances. The Picts, Scoti, Gaels, Strathclyde Britons and Goddodin (Roman Votadani) were all Celtic Tribes with clearly defined areas, who clearly co-operated in a loose federation and formed joint armies when threatened by invasions of Jutes, Saxons, Danes and Vikings.

In the 6th century St. Columba converted the King of the Picts to Christianity. In the 9th century Ceanneth Mor MacAlpin, King of Scots, assimilated the Pictish kingdom into his own. Later on parts of Strathclyde were added and in or about the 10th century the land came to be known as Scotland. The Picts, among whom the Goddodin and Strathclyde Britons were numbered, were extraordinarily cultured and civilised people, with highly advanced artistic abilities and metalworking skills. The Gaels traded extensively with the Pictish people and often intermarried, as the matrilineal rolls of the Pictish rulers reveal. The languages were very similar having a common ancestor and in the 5th and 6th centuries would have had little difficulty understanding each other, thus fulfilling one of the main requirements for nationhood, A COMMON LANGUAGE.
NATIONALISM = BIGOTRY
The biggest mistake the Scottish National Party ever made was to incorporate the word 'National' into the party name. This has given rise to accusations of Fascism and right-wing Tartan bigotry. The Sectarian card is being played by the Unionists for all that it is worth, with comments from the Protestant Orange Order, like 'The SNP are recruiting Catholic support as they support the Nationalists in N Ireland'. Likewise the Catholics are told that the SNP is full of hard line Protestants who want to destroy the Catholic Faith in Scotland by imposing the Orange Order. Who are these 'agents provocateurs?' The London Unionist parties through their place men on the Councils, of course. Rumours abound in the hotbeds of pub gossip, just like the current one that John Wayne was an Apprentice Boy! (In reality he was a Catholic.) These stories are plain daft and mischievous, their aim is to reinforce sectarian stereotypes and stop people freeing their minds of old habits and voting for Change.
SCOTTISH MUSIC & CULTURE IS SERIOUSLY UNCOOL!
People with a love of and understanding Scottish (including Gaidhlig) music and culture are very thin on the ground. To the ordinary Scot in the street, the terms 'Mod' Peurt a beul, Piobrachaird (Ceol Mhor) and fiddle music are a blast from the past. Gaidhlig 'Rock' like Runrig, Wolfstone and Capercaillie may arouse a passing interest from time to time, but in general your average Scot will just listen to whatever the music industry decrees is the 'In' sound (finds profitable at the time). The popular music industry is backed up by huge amounts of media advertising, which in most cases dictates what will be the 'Coolest Sound on the Airwaves' rather than allowing the public to judge the music's artistic merit.

Furthermore there is a widespread media-led conception that Scottish Music and Culture is for nerdy anoraks only, not progressive 'with it' people. It would be true to say that, in Scotland, classical music lovers are better served than Gaidhlig and Folk. There are only two weekly programmes of Gaidhlig (Celtic) Music, half an hour on BBC2 'Tacsi' and Grampian TV half an hour on Sunday 'Ceolraidh'. On the Radio if you are fortunate enough to be in the catchment area you have 'Radio nan Gaidheal', otherwise you have to be content with BBC Radio 4 and Robbie Shepherd's excellent programme. This pandering to the lowest popular common denominator (i.e., what brings the companies most revenue) is not doing our culture and our music any good at all. If the policy is to allow Scottish music and culture to wither on the vine, then they are succeeding. I am certain that this is a deliberate policy to steal our Musical Heritage and Culture and cast it into the garbage can. How can we Scots show the world our unique differences from Anglo-Saxon 'Culture' if we allow it to be trashed?
FORGOTTEN SCOTLAND! THE TOURIST BOARD & HISTORIC SCOTLAND CONSPIRACY!
There are THREE quangos involved with selling Scotland and raising Scottish consciousness; the Tourist Board, The National Trust for Scotland, and Historic Scotland who have the care and maintenance of many historic houses, artefacts and battlefield memorials entrusted to them. One complaint they all have in common is that there is not enough cash to properly promote Scotland. Historic Scotland and the National Trust do an excellent job with the limited funds at their disposal. They have an educational programme for schools which can really bring our history to life. Unfortunately, not all schools can take advantage of, or afford the equipment to use, these excellent teaching tools.

Scotland as a whole has an excellent reputation for hosting 'alternative' festivals and arts (such as the Edinburgh Alternative Festival, the Aberdeen Festival of Youth, and many held in Glasgow all year round). However, anyone who wants to put on a festival promoting or celebrating traditional Scots culture and way of life is informed that funding is unaccountably scarce (as with many small town festivals which have had to be cancelled due to lack of funds from the tourist board and business, leading to a serious loss of annual tourist income in some cases). This attitude is unacceptable from an industry which is supposed to promote ALL of Scotland, not just the parts of Scotland which fit nicely on a billboard or the top ten hits of the week. The people of Scotland are left with the uncomfortable feeling that only English tourism is being treated seriously (as can be seen from the apparently never-ending supply of cash for everything from Morris dancing to Opera seats). The Government needs to be informed by the Scottish tourism industry itself that this state of affairs cannot and will not continue, and if it is not rectified then they will be deliberately driving large sections of Scotland into unemployment and poverty. The Scottish people themselves need to stand up also and let Blair and his 'babes' know that we will tolerate this unfairness no longer. We are not a subservient slave nation, we are meant to be part of a united kingdom and it is about time we were treated as such.
THE UNHOLY ALLIANCE = HOLYROOD + WESTMINSTER
Recently this forum highlighted the new Scottish Land Use legislation which rather upset the Shetlanders and Orcadians by denying them their foreshore rights under 'Udal Law.' Out of interest I looked up the relevant legislation and was surprised that no input had been received from any of the Islands Councils prior to drafting these laws. I then looked up the Draft English legislation to compare it with the Scottish. Surprise! Surprise! both pieces of legislation could have been written by the same group of Lawyers! Now it would be very easy for English Lawyers and Civil Servants to miss out 'Udal Law'. But, our one and only James Wallace QC. MSP (Lib Dem Orkney - NOTE THE ORKNEY!), a gey bright Q.C., would never make the mistake of overlooking Udal Law, now would he? Not unless he had NO HAND IN ITS PREPARATION!

Now this is not the only case of near identical legislation being pushed through Holyrood and Westminster. So much has transpired under the guise of bringing Scottish and English Law into line with the new European 'Corpus Juris' that the distinctive elements which made the two systems different are almost gone, and English and Scots Law are almost, but not quite, yet the same. Being a suspicious person by nature, and having a great dislike of being sold a load of bullshit, I have come to the following conclusion. The Labour Party majority in the Holyrood Parliament is being used by the British Labour Party (New Toraidhs) to 'Homogenise' Scottish and English Laws and customs to remove the distinctive differences between our two Cultures. This can only be a direct assault on our national identity in order to minimise the effectiveness of the Nationalist voice and swaying Scots into accepting the status quo. What they couldn't achieve through the clearances and massacres of the 18th and 19th century, they are achieving by using their majority in Holyrood as a bulldozer; to steamroller through any legislation which will hamstring Scotland's bid for independence and bring the 'rebellious Scots' finally into line.
FINAL NOTE.
In addition to the direct cultural assault on all things Scottish, the ongoing pressures of globalization are putting a great strain on our ancient institutions. Whether or not they survive is down to each one of us. Siol nan Gaidheal has a duty to protect our Culture, music and language, but Siol can only do this if we all pull together. Other Cultural entities such as Clann Societies must also work hand in hand with all the Nationalist movements in Scotland, there is NO EASY ANSWER to this problem. If we do not wish to see our ancient culture sink without trace then we must work HARD to keep what we have and build on it. The Unionist blight is still there, chewing away at the roots, weakening the plant. We have got to prevent the Unionists from doing more damage than they have already done, and allow our culture to grow and flourish. Maybe the time has come for Siol nan Gaidheal to organise cultural events to raise the consciousness of our people in the same way that the film 'Braveheart' has roused many nationalists?


---
---
On-Line Copyright © Siol nan Gaidheal 1995 - 2020, All Rights Reserved


---