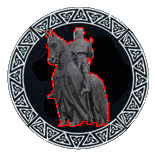 Siol nan Gaidheal
scotland's first aviator?
1784
Standing on a corner of a quiet back road running out of the village of Ceres in Fife is a stone bearing an unusual plaque. This commemorates the aerial exploits of one Vincenzo Lunardi, an Italian aeronaut who, it is claimed, made the first ascent by hydrogen balloon in Scotland on the 5th October 1785, traveling 46 miles from Edinburgh to Fife. So states the plaque, but a little research shows that he was, in fact, only the second man to do so. The first was a native Scot about whom very little is nowadays known, one James Tytler.
Lunardi is the better known of the two because of his flamboyance and the fact that he made a career out of balloon ascents for several years. He had come to Scotland following several successes in England, and proceeded to fly two or three times from his base in Edinburgh, plus a couple of flights from Glasgow and Kelso. The final flight from Edinburgh ended in an early bath, when the balloon came down at sea after an hour or so, and Lunardi was rescued by a fishing boat from North Berwick. He then left Scotland to repeat his adventures across Europe.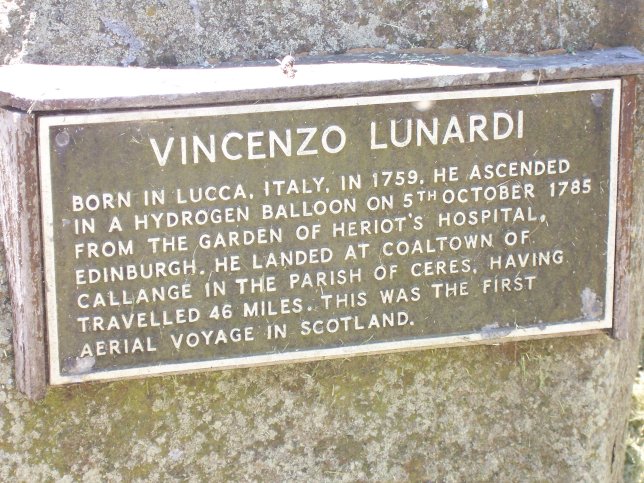 The plaque near Ceres
James Tytler was an unusual individual, born a son of the manse in Fearn, Ross and Cromarty, around 1747. He appears to have benefited from a good education locally, and moved to Edinburgh to study medicine. He sailed from Leith in 1765 as ship's surgeon on board the whaler "Royal Bounty". On his return he married, but found himself too financially straitened to continue his medical studies. After a spell as a pharmacist, which was unsuccessful, he moved to England for a while. Returning, now with a family of five children to support, he began to earn a living as a writer and editor. Tytler showed undoubted skill in this department, but still failed to make a decent living and often resorted to the debtor's sanctuary in Holyrood, where he wrote several ballads including "I ha'e laid a Herring in Saut", "I canna Come ilka Day to Woo", and "The Pleasures of the Abbey", as well as anonymous magazine articles on various subjects from medicine to religion. One of his claims to fame was setting his "Essays on the Most Important Subjects of Natural and Revealed Religion" in type without using a manuscript in 1772.
He was gifted with regard to his literary skills, and was apparently respected by Robert Burns, with whom he collaborated on a collection of old songs. Burns once described his poetic collaboration as "the works of an obscure, tippling, but extraordinary body of the name of Tytler commonly known by the name of "Balloon Tytler", from his having projected a balloon, a mortal who, though he drudges about Edinburgh as a common printer, with leaky shoes, a sky-lighted hat, and knee-buckles as unlike as George-by-the-Grace-of-God and Solomon-the-Son-of-David; yet that same unknown drunken mortal is author and compiler of three-fourths of Elliot's pompous Encyclopaedia Britannica, which he composed at half-a-guinea a week."
In 1776 he gained employment editing and revising the second edition of the Encyclopedia Brittanica, for the princely sum of sixteen shillings per week, in the employment of Messrs. Bell and MacFarquhar. This job lasted for the next seven or eight years, and he enlarged this work from three to ten volumes, with a total of some 9,000 pages. It was whilst he was researching an appendix on Air Balloons that his interest in this subject was aroused. He commenced construction of the "Great Edinburgh Fife Balloon", some 40 feet tall, using the unfinished Register House with its dome to shelter the balloon during the experimental stages. On 6th August 1784 he made his first attempt at flight from close to where the Elsie Inglis Hospital stood until recently. Bad weather and technical problems beset him, and the flight was not a success, much to the displeasure of the crowd and assembled press, who ridiculed him.
Undaunted, he made a second attempt in the early morning of Wednesday 25th August, and following an hour's inflation by the fire the balloon rose on its tethers. Two days later he again ascended, this time un-tethering the balloon, which floated unsteadily half a mile to Restalrig, the first real flight in Scotland having been accomplished. He repeated this flight on the 31st August, again quite successfully. These exploits led to him becoming colloquially known as "Balloon Tytler", though for various reasons the flight of Lunardi the following year has become better remembered.
Chambers "Book of Days" states (inaccurately, as it is a year out in regard to Lunardi): "It is generally supposed that Lunardi was the first person who ascended by means of a balloon in Great Britain, but he certainly was not. A very poor man, named James Tytler, who then lived in Edinburgh, supporting himself and family in the humblest style of garret or cottage life by the exercise of his pen, had this honour. He had effected an ascent at Edinburgh on the 27th of August 1784, just nineteen days previous to Lunardi. Tytler's ascent, however, was almost a failure, by his employing the dangerous and unmanageable Montgolfier principle. After several ineffectual attempts, Tytler, finding that he could not carry up his fire-stove with him, determined, in the maddening desperation of disappointment, to go without this his sole sustaining power. Jumping into his car, which was no other than a common crate used for packing earthenware, he and the balloon ascended from Comely Garden, and immediately afterwards fell in the Restalrig Road. For a wonder, Tytler was uninjured; and though he did not reach a greater altitude than 300 feet, nor traverse a greater distance than half a mile, yet his name must ever be mentioned as that of the first Briton who ascended with a balloon, and the first man who ascended in Britain."
By now Tytler was extremely well read and informed, through all his varied studies, and he became a campaigner for parliamentary reform. He wrote a treatise entitled "Answer to Paine's 'Age of Reason'" during this period. He joined the "Friends of the People" Society, and in 1792, inflamed by the radical ideas of Thomas Muir, published a political paper which was immediately condemned by the authorities as seditious. Forced to flee to the house of a friend near Salisbury Crags on learning that the authorities were coming to arrest him, he moved afterwards to Ireland, where he completed work on his latest book "Systems of Surgery". Tytler was cited before the High Court and outlawed in January 1793 when he wisely failed to appear in person. He then moved to America, carrying on his writing with the publication of a "Treatise on the Plague and Yellow Fever" in 1799. He edited a newspaper in Salem, Massachusetts, for several years before dying in 1805, accidentally drowning in a clay-pit.
He has been remembered in his native Edinburgh, albeit belatedly, in the names of two streets now standing where the Elsie Inglis Hospital once stood, the original site of his ascent. Tytler Gardens and Tytler Court bear the name of this unusual man.
Recommended Reading: "Balloon Tytler", J.Fergusson, London 1972
---
On-Line Copyright © Siol nan Gaidheal 1995 - 2020, All Rights Reserved


---